Main content
Tales of family and friendship, chosen by Alan Davies, Ivo Graham, Samantha Bond and Sunetra Sarker
20 March 2022
Whether it's a thriller, a comedy or a memoir, a great book is often driven by relationships between characters. This week's guests on Between the Covers choose four titles that put families, friendships and romances in the spotlight.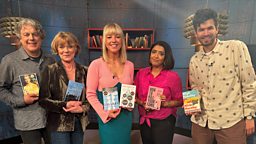 Each week on Between the Covers, Sara Cox's guests reveal a reading recommendation of their own. This week Alan Davies, Samantha Bond, Sunetra Sarker and Ivo Graham share their favourite literary tips.


Episode two - Favourite books from our guests

Alan Davies - Bad Blood by Lorna Sage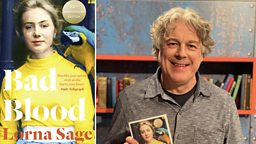 Actor and comedian Alan Davies chooses Bad Blood
The cover says: Lorna Sage's outstanding memoir of childhood and adolescence brings to life her eccentric family and bizarre upbringing in rural Wales. The period is evoked through a wickedly funny and deeply intelligent account: from the 1940s, dominated for Lorna by her dissolute but charismatic vicar grandfather; through the 1950s, where the invention of fish fingers revolutionised the lives of housewives like Lorna's mother; to the brink of the 1960s, where Lorna's pregnancy at 16 outraged those around her, an event her grandmother blamed on the fiendish invention of sex.
It's a vision of Britain in the 50s and 60s and very moving.

Alan Davies
Alan says: I love this book. I heartily recommend it. It's not just an autobiography, but also it's a biography of Sage's grandfather whose diaries she came across. Her gran and grandad had this toxic marriage. It's beautifully constructed and laid out. It's a moving vision of Britain in the 1950s and 60s.
This is the 20th anniversary edition and it's still in print. It's brilliant, warm, funny, surprising and shocking. I recommend it to everybody.

Ivo Graham - High Fidelity by Nick Hornby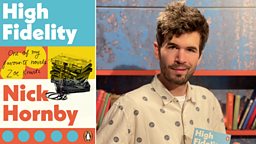 Comedian Ivo Graham chooses High Fidelity
The cover says: Do you know your desert-island, all-time, top five most memorable break-ups? Rob does. But Laura isn't on it - even though she's just become his latest ex. Finding he can't get over Laura, record-store owner Rob decides to revisit his relationship top hits to figure out what went wrong. But soon, he's asking himself some big questions: about relationships, about life and about his own self-destructive tendencies.
It's one of the best ever books about being a music fan.

Ivo Graham
Ivo says: High Fidelity captured being a music fan just as I was getting into music. I didn't know most of the music that was being referenced but I enjoyed that sense that you could bond with people over it, be a music snob and use your knowledge as a weapon.
Although it's very much a book of its time, it's one of the best ever books about being a music fan. It doesn't just describe the main character's feelings but many other characters as well, so I think it's still got a huge audience. I'm in my 30s and I'm still defining myself a lot by the music I love and the memories I have associated with it. Even though the person at the centre of the book is not a heroic figure, you can relate to it more and more.

Listen on BBC Sounds to High Fidelity author Nick Hornby talking about his 1998 novel

Samantha Bond - Bel Canto by Ann Patchett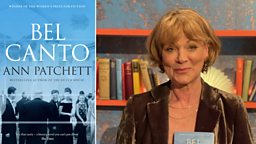 Actor Samantha Bond chooses Bel Canto
The cover says: Somewhere in South America, at the home of the country's vice president, a lavish birthday party is being held in honour of a powerful Japanese businessman. It is a perfect evening – until a band of gun-wielding terrorists takes the entire party hostage. But what begins as a panicked, life-threatening scenario slowly evolves into something quite different, a moment of great beauty, as terrorists and hostages forge unexpected bonds and people from different continents become intimate friends, and lovers.
It's about trust, intrigue, romance... It's absolutely magical.

Samantha Bond
Samantha says: Part of the seduction to get the Japanese man to come was hiring one of the greatest sopranos in the world to sing at his birthday. It starts at this beautiful party. The men are in black tie, the ladies are in evening dress, and it's all terribly gorgeous. As the opera singer finishes her last aria, the military burst into the house and everyone in the house is taken hostage.
It's a beautifully written book. It's about trust, intrigue, romance, and two groups of people; the people who are keeping them hostage and the hostages themselves and how their relationships develop. It's absolutely magical. If you haven't read Ann Patchett's books, I highly recommend them.

US writer Ann Patchett talks to James Naughtie and a group of readers about her Orange Prize-winning novel - listen on BBC Sounds

Sunetra Sarker - How To Kill Your Family by Bella Mackie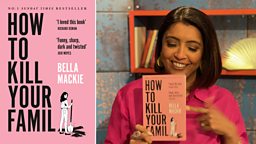 Actor and presenter Sunetra Sarker chooses How to Kill Your Family
The cover says: Meet Grace Bernard. Daughter, sister, serial killer. Grace has lost everything. And she will stop at nothing to get revenge...
She really captivated me. I loved it.

Sunetra Sarker
Sunetra says: The title really draws you in, and it's a great idea for a front cover. This story is about a girl called Grace who committed many murders, brutally and calmly. She's murdered members of her family but she's in jail for a murder she didn't commit. This book is an open confession of all the murders she did commit.
The victims are all members of her absentee millionaire father's family. He'd had an affair with Grace's mum, but then went off and had a wonderful life starting another family.
When her mum dies, she decides her revenge on him will be killing every single member of this man's family. She is hilarious, just so funny. She really captivated me. I loved it. She felt like the kind of girl I'd have a drink with, but there would just be a small risk she'd also kill my family!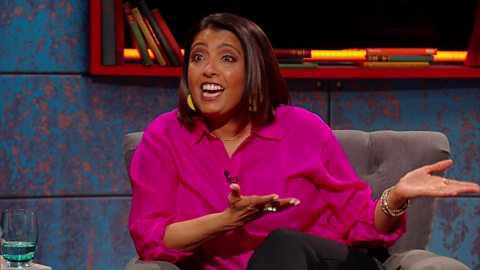 Sara Cox stages an intervention' with her guests, and discovers how many books they own.

Book recommendations from Between the Covers
Spruce up your springtime reading list with six brand-new recommendations for series six of Between the Covers.

Ad an international flavour to your springtime book lists with these series six reading recommendations from Europe.

Reading recommendations from series five of Between the Covers.
More from BBC Arts
Professional and amateur performers talk about their dance passion

Books that tackle life's biggest themes, as chosen by Gethin Jones, Laura Whitmore, Joe Thomas and Meera Syal