Jersey woman calls for more awareness of rare condition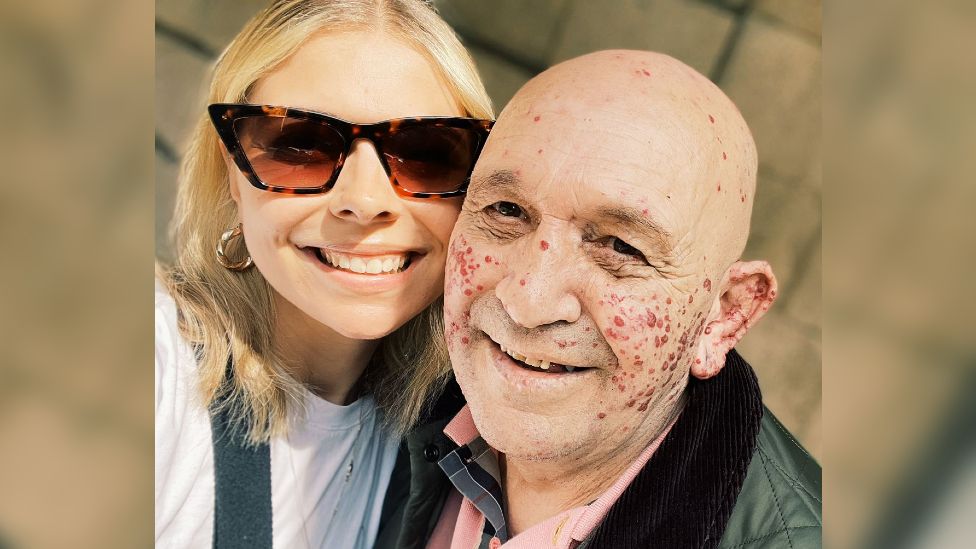 A Jersey woman who has a rare genetic condition that affects her blood vessels is calling for greater awareness of the disorder.
Hereditary haemorrhagic telangiectasia (HHT) can cause severe nosebleeds, seizures and strokes.
Chelsea Ford, 27, is the only diagnosed case in Jersey but it is believed to affect about one person in every 5,000.
"The fact it goes so undiagnosed, there could be people who do have it and don't know what is wrong," she said.
Ms Ford, who lives in St Helier, said her father Vivian had an extreme form of the condition and would lose a lot of blood during nosebleeds, leaving him needing blood transfusions.
He died from lung cancer in 2021 but HHT was listed as a complication for his cancer treatment because it affected the blood vessels in his lungs.
"My dad had these red spots on his face and he would lose a lot of blood," Ms Ford said.
"It could be pints of blood at a time.
"It really stopped him living his day-to-day life."
Of her own condition she said: "The nosebleeds, I've had them since I was young and they are getting worse.
"I've been told by quite a few different consultants that this condition gets worse with age so I'm really starting to think about it more and notice it more and think about my future."
Hereditary haemorrhagic telangiectasia
Symptoms include regular nosebleeds and visible red spots in certain places on the body
They usually start in childhood or in the teenage years
The red spots are formed due to abnormal blood vessels and if inside the body can led to seizures and increase the risk of a stroke
There is no cure for HHT but there are treatments
HHT causes increased risks during pregnancy
It is caused by a faulty gene which cannot produce or produces an abnormal version of a protein found in the lining of blood vessels
HHT is usually inherited from a parent
Jose De Cordova, a consultant ear, nose and throat surgeon who treated Mr Ford and now treats his daughter, said: "In the island, as far as I know, we only have one patient.
"If they have any problems they give us a call and then we bring them in to try to deal with the problem.
"At the moment, we don't have anything that we can use and we can tell you that is definitely going to work and make you better."
Chelsea has been talking to the organisation Cure HHT to see how other people around the world deal with the condition.
The group funds research to find a cure, improve treatment and try to help reduce the number of undiagnosed cases.
Cure HHT Executive Director Marianne Clancy said: "For Chelsea to put herself out there and say I am going to increase awareness and I am going to bring this to the forefront, she doesn't recognise how many lives she's going to save."
Related Internet Links
The BBC is not responsible for the content of external sites.