Man set alight near Birmingham mosque has life-changing injuries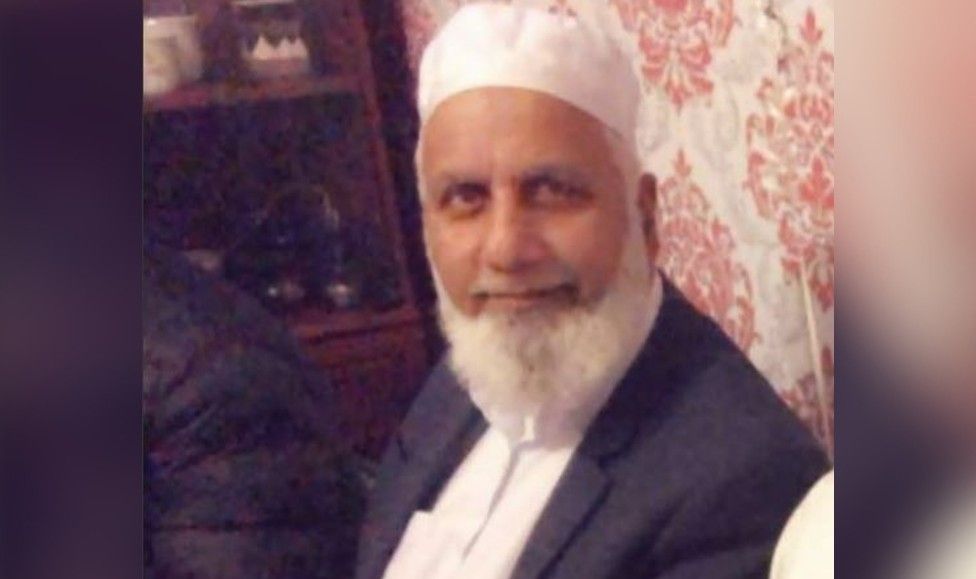 A man set alight as he left a mosque on Monday has suffered life-changing injuries, his family said.
Mohammed Rayaz, in his 70s, was sprayed with a substance before his jacket was set on fire.
Detectives, supported by counter-terror police, are questioning a man arrested on suspicion of attempted murder after the attack in Edgbaston, Birmingham.
Mr Rayaz remains in a serious but stable condition in hospital following a skin graft operation.
MP Shabana Mahmood, who has spoken to him on a video call, said he was "touched at the outpouring of love and support".
"His hands are bandaged up and he's obviously had some very deep, serious injuries to his face, and he couldn't see anything, but he was able to talk," she said.
The attack happened just after 19:00 GMT on Shenstone Road, near the Dudley Road mosque Mr Rayaz had left.
The member for Birmingham Ladywood organised a community walkabout on Wednesday with police to reassure Muslim communities on the eve of Ramadan.
"The arrest would not have been made so early were it not for the community," she said. "It's a special time for people of the Muslim faith, and of course as anybody would expect there is going to be a sense of apprehension as worshippers go to mosque."
Local solicitor Shahbon Hussain, who is a StreetWatch member, said it would take a while for residents to feel safe as Ramadan got under way.
"I think we need to take preventative action inside the mosques, just to make sure something like this doesn't happen, and try to work closely with the police and Birmingham City Council," he said.
Nearby resident Mohammed Abbasim said he was shocked to find someone he knew had been targeted.
"This gentleman, who is a victim, our family knows him - we know who it is," he told BBC Radio WM.
Mr Abbasim said he had been sent a video on WhatsApp at about 19:30 GMT and had walked out on to the road where he had seen police tape.
The incident had made him feel "concerned" for his own family, friends and neighbours, he said.
"It's shocking to see that someone that you know has been targeted in this way."
He said the incident was concerning.
"I could sense that there were things locally over the past few years, where certain communities had kind of started dividing more," he said.
"When things like this happen, it's an opportunity for the local people to come together rather than divide further," he added.
Neighbours previously told how they helped to put flames out and carry the victim to his home after the attack, where he was treated by paramedics.
He was taken to hospital with serious burns to his face and on Tuesday remained in a stable condition.
His son said his father was "very badly burned" and added the family was praying for his recovery.
The suspect had been arrested in Dudley Road, where the mosque is, on Tuesday, after being identified by officers who had been carrying out inquiries.
Ch Supt Richard North, commander at the West Midlands force, said: "We are aware of the incident that happened in London.
"Our investigation continues with support from Counter Terrorism Policing West Midlands, who have access to specialist capabilities to help establish the full circumstances surrounding the incident.
"We are actively working with the Metropolitan Police to see if those two incidents are connected, that's a major part of our inquiry," he added.
Related Internet Links
The BBC is not responsible for the content of external sites.