Peaky Blinder creator's Birmingham film studio to generate 760 jobs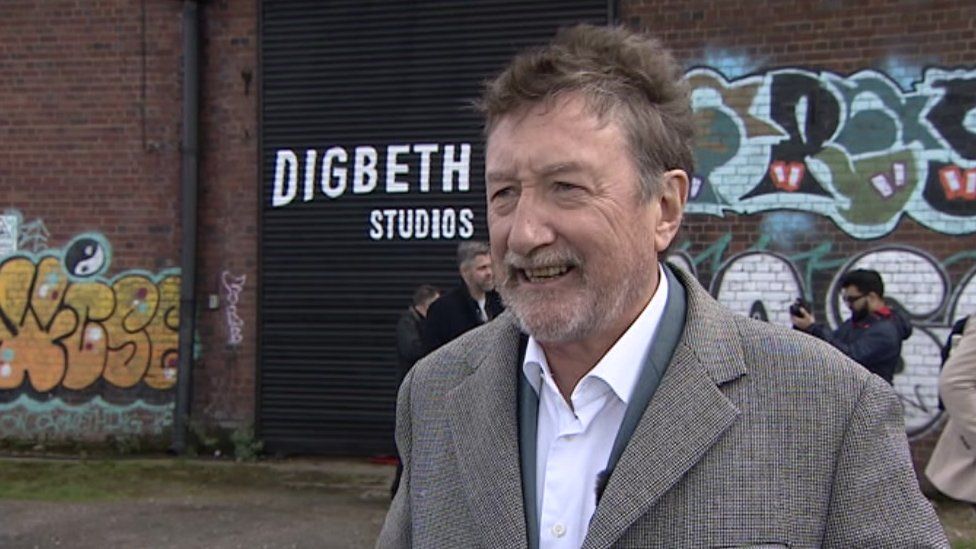 A major new TV and film studios in Birmingham is expected to create more than 700 jobs.
Construction has started on Digbeth Loc Studios, set up by Peaky Blinders creator Steven Knight.
The site has been confirmed as the location for a new Peaky Blinders movie and is hoped to grow the local production industry.
"It's going to change the nature of the opportunities for people in this city," said Knight.
Speaking at the Fazeley Street site's launch, the screenwriter said filming for the Peaky Blinders movie would start there soon, with a call for extras to be issued shortly.
"All you need is a haircut - and a cap," he added.
"I wish I could announce the things that are coming, because there's a pipeline of productions... that are quite mind-blowing," he added.
The development of existing warehouses and new "state-of-the-art" studio spaces is expected to be completed by 15 July, with the first filming planned for October.
The facility will provide 760 jobs, including for people who can "walk to work", said Knight.
"There's always been the opportunity for location shooting here but what's has been lacking is big interior studio space. It makes absolute business sense to not have to ship people in from London and Manchester and put them up overnight," he added.
It will also offer music production capacity, with studio space to be taken up by legendary Birmingham band UB40.
Founder band member Robin Campbell hailed it Birmingham's "most exciting development in decades".
"It will invite talent, business and projects from around the world to the beating heart of the city, to work with Birmingham's best," he added.
The project, a joint venture between Knight and Piers Read, of Time & Space Co Ltd, has attracted £1.3m in public money through the city deal fund.
The money is the result of an agreement between Birmingham City Council and Homes England, to pull together commercial land for the creative sector.
Other backers and partners, including a film school, are also planning to fund training for students from local neighbourhoods.
West Midlands mayor Andy Street said at the launch it was a "landmark moment" for the city and region, expected to contribute more than £30m to the local economy.
"This is about new jobs and new opportunities in a sector where perhaps Birmingham and the West Midlands perhaps hasn't been as strong as it could be," he added.
The site opens for business next week.
Related Internet Links
The BBC is not responsible for the content of external sites.