Met Police: Where next for the force after Casey review?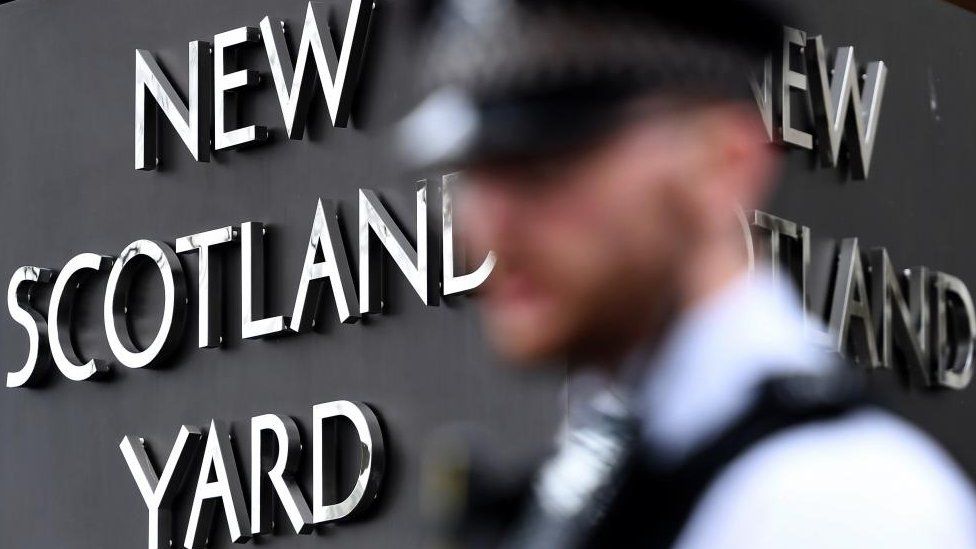 Policing in this country is in a state of emergency. The warning lights are flashing. The alarms are wailing.
Baroness Casey says the Metropolitan Police was expecting a report highlighting the things it needed to look at - but that, overall, the force thought she would say it's doing a good job.
"It's the exact opposite," she says.
Baroness Casey has a reputation for no-nonsense reports. When Dame Cressida Dick, the former Scotland Yard Commissioner, asked her to review the Met, she must have known what she would get.
Not the measured, dispassionate and legalistic volumes most institutional inquiries deliver.
Her language is often emotional and uncompromising, a style that appeals to journalists and politicians looking for a headline.
This report is so ferocious in its criticism that, in the short term, it is almost certain that trust and confidence levels in the police in London - already down - will plummet further.
With forces across England and Wales, like the Met, re-vetting all their officers, more scandals will emerge.
Every misconduct hearing, every court case, is going to damage public confidence.
Accused of institutional prejudice, it seems unlikely that, in the short term at least, this report is going to make it easier to recruit women, or those from the LGBTQ+ community and ethnic minorities.
Morale is not going to be improved by a report that is so merciless in its criticism of the Met and its culture.
A generation after the Macpherson report found the Metropolitan Police to be institutionally racist, here we are again. Only worse. Sexism and homophobia are added to the list.
The report notes that in 1972, on his appointment as commissioner of the force, Sir Robert Mark said he had "never experienced…blindness, arrogance and prejudice on anything like the scale accepted as routine in the Met".
The report immediately adds that the Met is a very different organisation today. But five decades on, Louise Casey says: "We have found those cultures alive and well".
The question is really about whether police forces turn things around quickly enough.
The report talks about reviewing progress against various measures after two and five years. Politicians are suggesting they will want to see results within two years.
But with a general election likely next year, and manifestos being written even sooner, will politicians show the patience Sir Mark Rowley, the current incumbent in Scotland Yard, says he requires? Especially if more bad headlines see public anxiety increase still further.
Baroness Casey hints at breaking up the Met, if things don't improve. But that kind of major reform of policing feels some way off.
As things stand, there is no blueprint for a reorganised system in England and Wales - and politicians of all stripes seem content to give Sir Mark the benefit of the doubt for the moment.
Home Secretary Suella Braverman has said she will be "holding the Metropolitan Police and the Mayor of London to account by measuring progress", but adds that she currently has "every confidence that Sir Mark Rowley and his team will deliver".
The Labour leader, Sir Keir Starmer, has pointed out that a collapse in trust in the Royal Ulster Constabulary among some communities in Northern Ireland resulted in the successful creation of a new police service, the PSNI.
Is that a hint that a Labour government might institute more radical reform?
Party insiders suggest they will be more hands-on than the current government has been in demanding progress, but there are no plans for systemic change - for now.
What does progress look like? Public confidence figures must improve. Recruitment from minorities must increase. Corrupt officers must be identified and booted out. Vetting must be more effective. Whistleblowers must be supported. Morale must rise.
Sir Mark has already instituted measures he believes will move the dials. But that will take time. Changing culture and rebuilding trust cannot be done overnight.
It is hard to overstate the perilous state of British policing right now.
The tradition of policing by consent - the idea that officers serve as members of the public in uniform, exercising powers with the approval of the people they serve - relies on trust.
But as Baroness Casey baldly states: "The Met has become disconnected from Londoners - their consent can no longer be assumed."
Trust is formed at the point where the police meet the public. But the report finds bobbies who should be on the beat are behind desks, backfilling for civilian support staff who have been stripped out.
"London no longer has a functioning neighbourhood policing service," Baroness Casey concludes.
"The closer the Met get to Londoners, the more beleaguered the service", is her damning conclusion.
Perhaps the only way to sort out the Met was a nuclear option, a report so damning it takes the force back to ground zero.
But a huge question remains: Can a new police service emerge from the ashes with the clock ticking?