Friend who inspired Shamima Begum to join IS mocks her as non-believer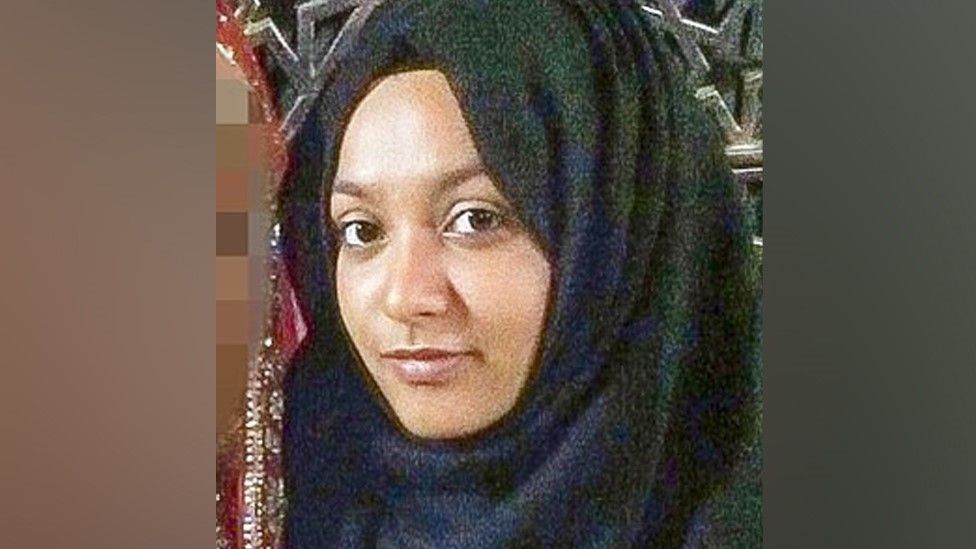 Shamima Begum's best friend, who she says inspired her to join IS, has been tracked down by the BBC having escaped from a detention camp in Syria.
Sharmeena Begum, no relation, dismissed her former friend, who wants to return to the UK, for "living off benefits" and mocked her as a non-believer.
The BBC also found Sharmeena was fundraising online for members of the IS terror group, which is illegal.
A top Syrian commander fears money like this is helping IS to regroup.
Posing as an Islamic State (IS) sympathiser, a journalist from the Shamima Begum Story podcast contacted Sharmeena online after she escaped from Syria's Camp Hol prison for women who were with IS, and their children.
Sharmeena is still in Syria, in hiding and using a different identity.
She was a schoolmate of Shamima Begum, in Bethnal Green, east London, when, in December 2014, Sharmeena suddenly went missing. She had run away to join the self-styled Islamic State terror group in Syria.
Two months later Shamima and two other friends followed their ex-schoolmate to the so-called caliphate that had been set up by IS.
Shamima went on to marry an IS fighter and have three children, all of whom died. After the collapse of IS in 2019 she was found living in a camp in Syria, and stripped of her British citizenship.
Shamima maintains it was Sharmeena who convinced her to join IS and follow in her footsteps.
The BBC tracked Sharmeena Begum down having been given a tip-off about a social media account she was using.
During our exchanges with her, Sharmeena claimed her one-time friend was "just another individual, living off the benefits" who did not contribute at all.
She says Shamima only came to Syria because "she just followed her friends into what became the biggest misery of her life".
Despite speculation that Shamima Begum had worked in Hisba - the IS religious police - and made suicide belts, Sharmeena says such theories were "such an insult".
She says Shamima did not leave her house unless her husband was away because he would not allow her out.
In her exchanges with the BBC, she mocked Shamima as a failure and a non-believer, saying she had ruined the image of the women who had joined IS.
A former IS member has told the BBC Sharmeena is fanatical even by the standards of IS. When asked if she regretted joining IS, Sharmeena skirted over the question, saying only she didn't want to come back to Britain and go to jail.
It's difficult to know how seriously to take Sharmeena's description of her former schoolfriend's activities, given Shamima's legal attempts to return to the UK.
For her part, Shamima said her one-time friend played a big role in convincing her to travel to Syria in the first place.
"Sharmeena was, you know, talking to us face-to-face about, you know, coming to ISIS.
"I was being manipulated into thinking this was the right thing to do and I was being manipulated with lies about where I would be going and what I would be doing.
"I mean, in my opinion, even though Sharmeena probably is still radical. I will say she was also a victim of ISIS."
Shamima herself has previously accepted she joined a terror group when she fled Britain and she understands the public anger towards her.
While living in hiding, Sharmeena Begum has been fundraising with the proceeds getting into the hands of IS. She has been posting stories on social media and messaging platforms, about conditions in detention camps, and appealing for Bitcoin. She has cultivated followers around the world as she asks people to send her cash for the women held in the camps.
It's not clear how much she has raised in total, but one account revealed 29 transactions with deposits totalling $3,000 (£2,450). She is also using other accounts and other cryptocurrencies.
When asked why she was raising money for a terror group, Sharmeena claimed she was "simply feeding and clothing women and children who are poor".
The commander of the Syrian Democratic Forces which guards detainees at Camp Hol, said IS is regrouping and is smuggling money into the camps, which can be used to buy weapons, and plan escapes and attacks.
"If we... look at the camps, there are little children who are a few years old and are being raised on the ideology of how to kill," said Gen Newroz Ahmed. She says her people are among those being targeted and killed.
The camp is home to more than 65,000 people and 57 nationalities, and guards there say they have found grenades, guns and explosive belts that have been smuggled in. They say 50 people have been murdered there in a six-month period.
In January, the United States and Turkey announced joint action to disrupt the transfer of money to the Islamic State group.